How will you know popular Nigerian socialite, Pretty Mike is a guest at an event without his dramatic entrance? No way!
The popular club owner who was a guest at the wedding ceremony of Ubi Franklin's baby mama, Sandra Iheauwa and businessman, Steve Thompson stormed the venue with a herbalist.
According to him, the groom opened up to him that he has been fighting with spiritual forces in his dreams due to the wedding, hence the need to fortify himself.
"My brother Steve told me there are so many forces, fighting him in his dream against this wedding, he asked me to support him and I came prepared." He wrote.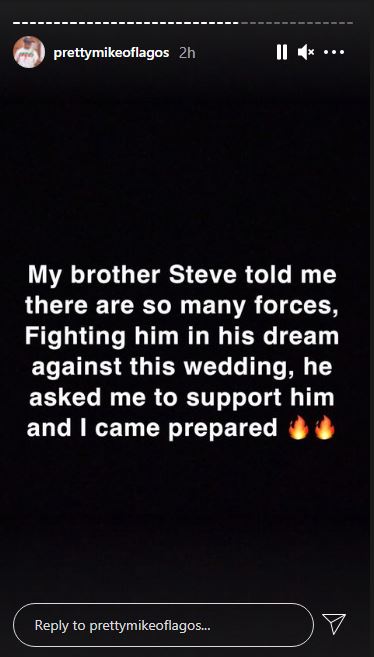 Sharing photos and videos of himself and his herbalist at the event, Mike wrote, "By Fire By Force "Sandra we are here to take you Home" #sandsRoyal2021 #ForBetterForWorst #HusbandMaterial #HolyMa #MyLittleSecret".